Customer Satisfaction Is Central To Success
It is well known that companies who understand their customers most often have strong customer retention, attract new customers, and have sustainable sales and profitability.
Companies leverage CSAT surveys to make more informed decisions and typically have a robust management system to identify meaningful recommendations. The benefit of analyzing survey comments is widely unappreciated and can be time consuming, resulting in many companies failing to discover the true customer sentiment from their surveys.
Recognizing this, companies across every industry spend billions of dollars on surveys and analysis, collecting more data than ever to better understand customer sentiment. However, despite the effort and investment, many still see CSAT scores stagnate or decline.
The obvious question is, why? In most cases, the simple answer is a failure to deploy comprehensive analysis on the full data set.
Where It Goes Wrong
For companies with a small volume of customer interactions, employees can provide a maniacal focus on each sales inquiry, transaction, and post-sale support engagement. Building these relationships is crucial to cultivating human experience (HX) and is an excellent recipe for growing the business.
As companies grow, it becomes costly and inefficient to scale high-touch manual processes to measure and respond to customer sentiment, and most companies ultimately adopt CSAT surveys to monitor customer satisfaction. CSAT surveys employ a structured rating scale (such as 1-10) along with free-form (i.e., unstructured data) question-and-answer options. Companies are then able to filter results and focus on the issues and processes that appear to be the largest problem area, where customers have rated the company poorly (typically a score of six or less on a ten-point scale).
While this practice may seem logical and efficient at first glance, and does provide some insight, it also misses opportunities to identify true customer sentiment. This in turn drives incomplete and insufficient initiatives to improve CSAT.
Unstructured Data Is The Key
The real opportunity in CSAT surveys lies in understanding how the ratings —good or bad— relate to the comments submitted. Analysis of numerous company surveys across industries as diverse as high tech, banking, and manufacturing highlight that customer ratings and customer sentiment are frequently mismatched. Anecdotal evidence of this is clearly visible in the ratings and comments for large online retailers, where customers often leave a five-star rating along with comments about the poor quality of the product or support experience, or one-star ratings and a comment about it being great.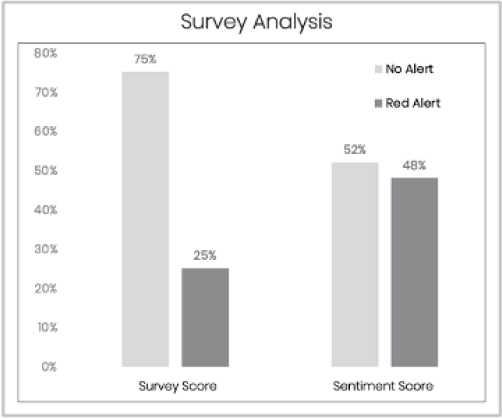 In one case study example, ActioHX analyzed more than 200,000 CSAT surveys and found that 38% of that company's promoters (customers who rated them between eight and ten) expressed negative sentiments in the comments. Additionally, only 22% of the promotors expressed positive sentiments. Further analysis of the entire set of comments highlighted hundreds of opportunities to improve the human experience through enhanced self-service capabilities and simplification of the product research and purchase process. The actionable insights resulted in clear guidance for their various execution teams that, when implemented, made measurable improvements to their online self-assist success rates and customer satisfaction, along with increased sales and profitability.
How We're Different
Many third-party survey companies offer sentiment analysis, but upon closer examination, they typically aren't providing the whole picture.

ActioHX offers a fully automated feedback analysis solution employing machine learning algorithms that review all of the ratings and unstructured comment data to calculate a revised sentiment score. Survey feedback ratings are synchronized with the comments to assess the strength and nature of the sentiment.
Feedback comments and issues are sorted into multi-tier categories, with options to use company-defined classifications.

As issues are categorized and prioritized, opportunities are identified to address key problem areas. Next, root-cause analysis (RCA) is performed to define specific actionable recommendations, based on the activity being surveyed. This could include evaluation of self-assist navigation, online tools, support center experience, etc., with specific recommendations for improving human experience between the customer, the company, and the employees in between. Additional recommendations might address upsell opportunities, product features, and a variety of other focus areas raised by customers.
Summary
CSAT surveys are a valuable tool for companies that leverage all their unstructured feedback along with their ratings for a holistic, HX-focused customer sentiment analysis. ActioHX has an automated AI solution using machine learning algorithms to ensure that your customer satisfaction initiatives and budget are delivering maximum value.
Contact us today for a free consultation on how ActioHX can help improve your CSAT efforts.